Naples Area Market Report
Posted: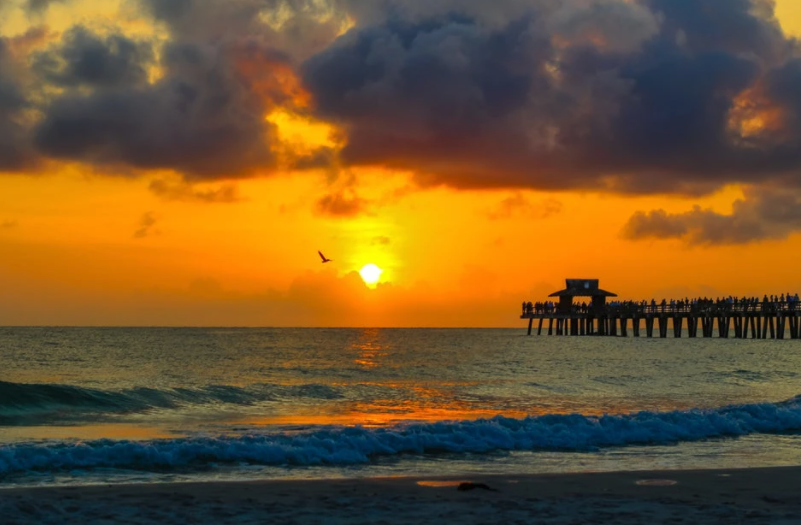 Housing Market Demand Continues to Outpace Inventory in December
Naples, Fla. (January 22, 2020) – Eager homebuyers did not waste any time in December as shown by pending sales for homes in the Naples area which leaped 88.6 percent to 1,535 pending sales (homes under contract) from 814 pending sales in December 2019. This spike in buyer interest was also reflected in the 65 percent increase in showings during December, which amounted to an average of 10 showings per listing. According to the December 2020 Market Report, released by the Naples Area Board of REALTORS® (NABOR®), which tracks home listings and sales within Collier County (excluding Marco Island), inventory continued to struggle to keep up with growing buyer demand. The number of available homes for sale in December 2020 decreased 49.1 percent to 3,140 homes from 6,163 homes in December 2019.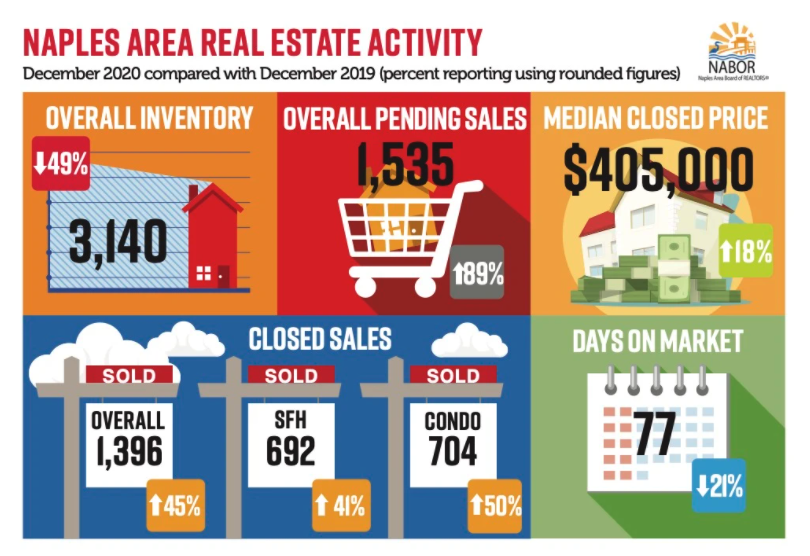 Overall sales in December increased 45.4 percent to 1,396 closed sales from 960 closed sales in December 2019. "As a direct result of the effects of the pandemic, 2020 was one of the first years in history where we saw more buying activity in the second half of the year than during the first half of the year," said Mike Hughes, Vice President of Downing-Frye, Realty, Inc.
Budge Huskey, CEO, Premier Sotheby's International Realty, added, "Historic election-year hesitancy regarding changes in administrations has not been reflected by top business leaders or the equity markets, and certainly didn't dissuade home buying decisions in Naples during December. In fact, in the high-end market, closed sales for homes priced over $2 million increased an astounding 62.4 percent year over year."
As months of inventory tightened in December to a very low 3.1 months of inventory, broker analysts said they are not concerned that the Naples market resembles the housing market of 2004/2005, when the market boomed, stumbled and fell. There are no signs of a decline in our market.
"The difference is that today's home sales are not coming from investors. In today's market, end users are purchasing homes," said Adam Vellano, West Coast Sales Manager, BEX Realty – Florida. "Not only is the demand real, but we don't have predatory lenders to worry about. While we expect to see home prices continue to rise, compared to other hot spots in the country, homes in Naples continue to be a great value!"
"Inventory will govern our potential moving forward," remarked Huskey. "Based on the fundamental strength of our market, I would have thought more foreigners with second homes in the area would be selling this year since travel restrictions prohibit them from entering America, but that hasn't happened yet."
"Once more people get the COVID-19 vaccine, I believe we'll begin to see sellers who were on the fence during the pandemic loosen up and begin to list their homes," added Hughes. "But this might not be until the second half of the year."
"Inherent in all the demand in inventory is an increase in price," said Molly Lane, Senior Vice President William Raveis Real Estate. "Prices today are being driven by a lack of inventory."
During December, the median closed price increased 18.2 percent to $405,000 from $342,500 in December 2019. An uptick in closed sales of high-end properties during December also drove the average closed price up 43.5 percent to $846,725 from $589,958 in December 2019. But keep in mind that even though median closed prices are rising, list price data extracted from the MLS showed only 506 properties reported a price increase compared to 321 that reported a price decrease during the month.
"People are looking for the type of resort-style living Naples can deliver," said Spencer Haynes, Director of Business Development and Broker with John R. Wood Properties. "As such, condominium sales increased almost 50 percent during December. Inventory is more plentiful in the condominium market today, especially in the lower price ranges."