Once Again, Naples Ranks as #1 Beach Town to Live in for 2020
Posted:
WalletHub compared 191 cities across 63 key indicators of livability
Jun 17, 2020 – Living by the beach is the ultimate dream for many Americans. After all, beachside communities often represent a relaxed and luxurious way of life. But few realize their dream of living by the water, precisely because of the misconception that beach towns are relatively more expensive and generally less livable than landlocked cities. Contrary to popular belief, however, many beach towns are suitable to everyday life — and easy on the wallet.
While beaches across the U.S. closed during the COVID-19 pandemic in an effort to avoid spreading the disease in crowded conditions, the first people to get access again were local residents. People not from beach towns often had to wait longer for a full reopening. In addition, many states temporarily banned short-term rentals, with further limited outsiders' access to beaches. Residents of beach towns were therefore able to enjoy less crowded conditions than usual, at least for a short time.
In order to determine the beach communities that are ideal for making one's permanent home, WalletHub compared 191 cities across 63 key indicators of livability. We split our comparison into two categories, towns located by the ocean and by lakes. Our data set ranges from housing costs to share of for-sale waterfront homes to quality of beach water.
Here are the top 10 Beach Towns (Ocean)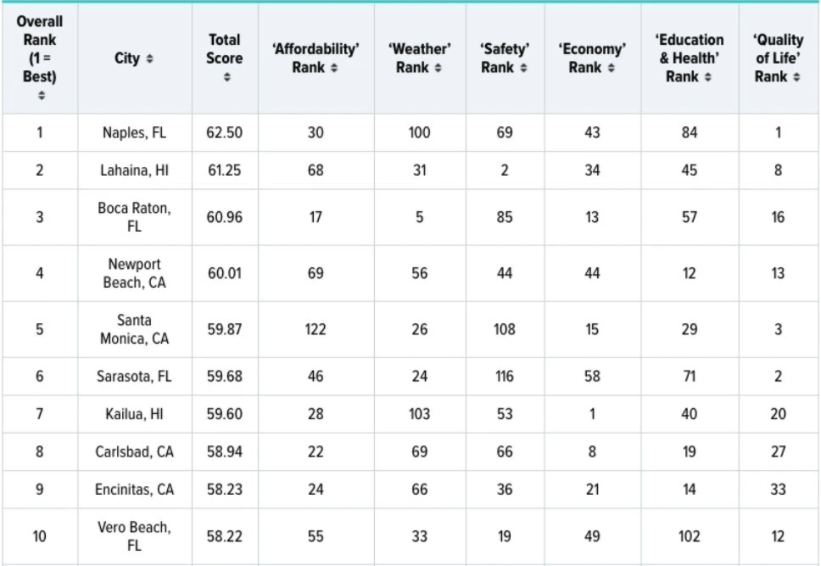 SOURCE: WalletHub